Quick Sweet Frothy Recipe
Our electric whisk method for making frothy Matcha is quick and easy, and it allows us to create a rich, silky texture without the need for milk or additives. Our Tenryū Matcha is particularly good at providing this texture.
We love this quick and mechanical method! An electric frother (whisk) is a quick and efficient way to make Matcha, resulting in a lighter and sweeter flavor with a creamier texture. However, it may produce a less savory brew compared to the traditional method, which tends to have a stronger umami taste. If you're feeling adventurous, check out the traditional method below!
Traditional Method
Our favorite recipe for making a nice silky, sweet brew with a hint of savory umami. This is not necessarily fast, but we love this method (when we have time to savor the depth of the umami flavor).
Traditional Sweet Umami Recipe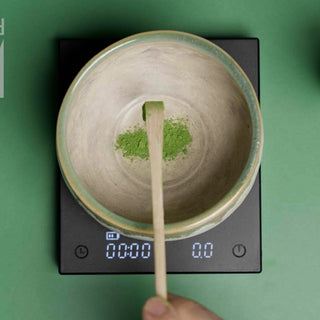 1. Scoop some powder
Add 2g (or more for the bold) of your favorite Midori Spring Matcha. Adjust based on preference, but this is what we like.
1.2 Sifting (Optional but effective)
use a sifter to finely breakup the powder for even distribution.
2. First Pour
Pour a small amount of 70C water to wet the powder.
2.1 Let It Bloom
Let the water saturate the Matcha, pulling the flavor and aroma to the surface.
3. Make a green sludge
Use your Chasen (whisk) to smooth out the remaining clumps and make a pasty sludge texture. This is a pre whisk to ensure a smooth velvety final texture.
4. Add Remaining Water
Still using 70C water, pour until about 70g.
5. Whisk It...Fast
Whisk in a W or M motion, and try to do it fast. Think about how quickly an electric frother moves!