Organically grown to meet your needs
All Midori Spring Matcha products are certified Organic.
Midori Spring tea plants are organically grown, which is more difficult to sustain, but important to our process. The climate in Japan also makes it much more challenging to grow organic tea trees. Only a small number of tea farmers have successfully shifted from growing non-organic to organic. To receive organic certification, products must follow strict rules and regulations. They must be grown entirely naturally, free of pesticides and herbicides, and using only natural fertilizers and pest control methods. Some describe organic Matcha as having a crisper, lighter flavor than the non-organic variety, which can have a stronger, full-bodied taste. This can be explained by the different farming and processing methods. Organic plants are more susceptible than non-organic crops to natural influences, such as temperature and soil nutrients, especially as tencha leaves are shade grown and fertilizer use is regulated. Like the finest grapevines, organic tea plants respond to their environment and the flavorful result can be subtly different – even from one year's harvest to the next.
Cultivating Community
 We believe in supporting the hands that nurture the soil and cultivate our tea with love and expertise. Small farms, big dreams – that's where our tea begins.
Clean Tea Commitment
Cleanliness is the heart of our tea philosophy. Our teas are Organic Certified & undergo rigorous third-party testing to ensure they are free from toxins. 
Sustainable Practices & Farming
We're all about leaving the planet in great shape for future generations. From seed to cup, we follow a path that's green, responsible, and deeply respectful of Mother Nature.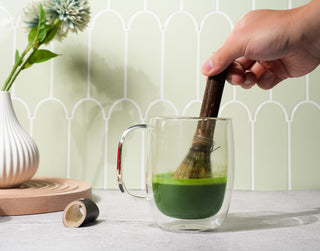 Celebrating Tea Mastery
We don't just source tea; we form bonds with tea masters. These partnerships allow us to offer unique, artisanal teas that aren't mass-produced but carefully crafted. It's a celebration of skill, tradition, and the art of tea-making.