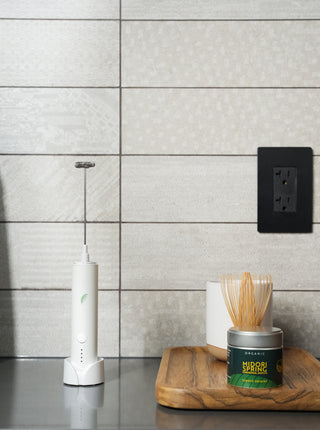 The Perfect Speedy Matcha Whisk
Whisk Your Matcha in Style
Sleek Matte White Design:
Our electric whisk doesn't just whip up a perfect froth, it does it in style. With its sleek matte white design, it will complement any kitchen decor, and make you feel like you're whisking up a Matcha storm in your own personal café.
USB Charging Base:
No need to worry about pesky cords taking up counter space! Our electric whisk comes with a USB charging base that allows you to dock it and charge at the same time. Plus, you can feel good knowing that you're saving the environment one cord at a time.
Ergonomic Design:
Our electric whisk is designed with your comfort in mind. Its ergonomic design fits perfectly in your hand, so you can whisk away with ease and comfort. Say goodbye to hand cramps and hello to perfectly frothed Matcha every time.
3 Speed Selections:
Not all Matcha is created equal, and neither should your whisking power be. Our electric whisk has 3 speed selections: 8000, 11000, and 15000 RPM, so you can tailor your Matcha experience to your own personal preferences. Feeling fancy? Whip it up at 15000 RPM for a frothy masterpiece!
One Click Button Use:
We believe in keeping things simple and hassle-free. Our electric whisk has a one-click button use, making it easy for even the most Matcha-challenged among us to create a perfectly frothed cup of goodness.
2 Interchangeable Whisk Heads:
We know that not all Matcha enthusiasts are created equal, which is why our electric whisk comes with 2 interchangeable whisk heads (single or double whisk). Whether you like your Matcha lightly frothed or a full-on frothy masterpiece, we've got you covered.
Frequently asked Questions
Get the right temperature
Our guide to making a great cup
Making matcha is easy with a few simple steps.