Direct From Farm
1st Harvest Crop, these leaves are shade grown and hand picked by local farmers within Haruno village.
Made in Small Batches
Freshly milled in small batches for the freshest Matcha powder in every bag.
3rd Party Tested
We routinely test for heavy metals, radiation, pesticdes, and various toxins to provide the most refined Matcha in every cup.
A Healthy Boost
Rich with antioxdants (L-theanine) , provides energy, a healthy immune system and helps cleanse the body.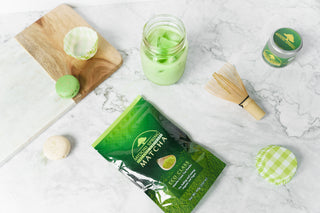 Our culinary grade Matcha brings joy to the table with every scoop. Many cookies, lattes, smoothies and scrumptious desserts were made using this fine flavored Green Tea Powder. Easy to use, while it's also organic, vegan, and tested rigorously for radiation and toxins like molds and heavy metals, because we take your health as seriously as we take our matcha. Visit our blog to see some of the recipes we've come up with!
Certified Organic, Vegan
Over 137x ECGC compared to regular tea
No chemicals preservatives, additives, soy, or gluten.
Tested for Toxins, heavy metals and radiation
Clean, healthy and delicious cup of Matcha
Background: Isagawa Plantation
Organic Valley
Our organic matcha is sourced from Isagawa, an area within Haruno village in the mountains of west Shizuoka. The plantation is located in an "organic valley" and enjoys natural shading and mist from nearby mountain slopes. The cultivation techniques used here mean there is no need for chemical fertilizers or pesticides, resulting in a delicious and healthy cup of matcha.
The plantation runs from 300-540m in altitude and benefits from the area's natural shading and fog/mist. The organic farmers' cultivation techniques, coupled with the cooler climate, means there is no risk of bug damage during the first flush spring season.
Frequently asked Questions
Only the finest
How our Matcha is Made
Let customers speak for us
Get the right temperature
Our guide to making a great cup
Making matcha is easy with a few simple steps.
Great flavor!!
First time ordering matcha. I have been buying at Starbucks. Honestly I like the flavor of this much better. And I know what I'm putting in my drink. Great taste. Love it!
A Brand and Product You Can Trust For Quality
As always Midori Springs provided excellent product and on this most recent occasion provided exceptional Customer Service and follow up on the order which required international shipping.
The best Matcha!
I have tried different brands of Matcha tea ceremonial and culinary but have fallen in love with Midori Matcha. I only hope price was bit lower for ceremonial matcha tea.
high quality at a very good price.
I have tried this product in a few different ways my favorite is with honey and coconut milk, hot or cold (iced). I am amazed that so little goes so far. I hope all the health benefits are as good as they are reported to be, if they are I will be totally pleased.