Exquisite Taste
One our finest single origin selection that, when properly brewed, produces elegant and vibrant flavors that's meant to be sipped and savored
Freshly Ground
Carefully ground in small batches using a MIKAGE stone, resulting in a delicately fine powder that delivers the freshest and most vibrant matcha right to your doorstep!
Clean and Pure
More than just organic farming. Directly harvested by seasoned farmers, and shade grown for up to 30 days. In addition to being tested for heavy metals, radiation and various toxins to ensure you get the purest cup possible.
What Makes Tenryū Okumidori Matcha Special?
About This Matcha
One of our most vibrant and vivid Organic Matchas comes from the Okumidori cultivar! Sourced with the help of a renowned tea master and harvested by local farmers on the picturesque fields above the Tenryū Rivers, you can truly taste that this Matcha is of the highest quality. This tea is characterized by its ability to make a silky, frothy brew with pronounced sweet notes. 
Flavor Notes: Vivid and bright. Bursts of sweet notes, hints of vanilla, creamy when whisked, brothy, and savory when thick.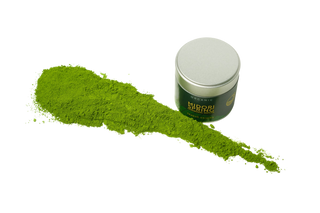 Longer shading, better tea
This particular (Okumidori) plant is carefully shaded for 30 days, 40% longer than average, to produce an abundance of chlorophyll and phytonutrients. Not only does it contribute to its unique, delicious taste, but it also plays a crucial role in improving our overall health and well being. 
The lack of sunlight during the process forces the plant to grow taller and produce high levels of chlorophyll, polyphenols, catechins, and L-theanine, a type of amino acid. High concentrations of these antioxidants and nutrients have shown to help with:
Mental clarity, immune system, inflammation, weight management, and cholesterol.

Furthermore, the shaded environment protects the tea leaves from damage by UV rays, pests, and diseases which helps to preserve their nutrients, resulting in a higher quality product.
Nestled away from pollution, our Okumidori Matcha plants are meticulously cultivated in the mineral-rich soils, natural shade of fog, and higher altitudes of the mountains in the Tatsuyama district to give them a naturally clear, crisp taste with a distinctive aroma.
Clean and Pure
We don't use additives or preservatives, and we routinely conduct heavy metals, radioactive particles, and pesticide testing in addition to strict quality control measures to keep our teas healthy.
Direct From Farm
We're proud to partner with a team of passionate and experienced tea farmers with over 30 years of experience! We believe that together we can preserve and perfect age-old traditions, push the boundaries of Japanese tea, and create a more sustainable and biodynamic future for the industry.
Fresh Small Batches
Once hand-picked delicately, the leaves are steamed, ground into fine powder, and packaged in small batches to lock in freshness and antioxidant properties
Get the right temperature
Our guide to making a great cup
Making matcha is easy with a few simple steps.
Fantastic Matcha
Beautiful deep green color. Sifts super easy for a smooth finish with very deep flavor. Easily one of my favorite matchas ever!
Great Quality & Taste!
Love this product! I'm a huge matcha drinker and this brand offers excellent quality with a smooth, delicate taste and vibrant color. I am very picky and was pleasantly surprised!
The best product for a matcha drinker
Great presentation and packeting, the container are perfect for keeping the matcha powder fresh and easy to access with my mambo spoon. But the greatest thing about Midori Matcha is that the taste is amazing! I tried both Emerald Class and Ceremonial and had the best experience every time I drink them. Highly recommend from a daily Matcha drinker.
Love it!
The matcha is good quality and very smooth. Ceremonial is the way to go!
Frequently asked Questions